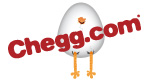 Chegg Coupons
Chegg coupon codes are a fantastic way to save extra money when buying or renting college textbooks. Starting in 2007 as a way to help college students save money by renting (instead of buying) expensive textbooks and e-textbooks, Chegg.com today is used by students at over 7,000 colleges and universities nationwide and is the top resource for college textbooks online.

Offering new and used textbooks for rent and to buy, Chegg also pays top dollar for "buy-backs" of textbooks students already own. They also provide homework help, course/professor reviews, grade distributions, and Notehall - a marketplace for lecture notes and study guides for university classes throughout the USA.

Every book is backed by a 21-day refund guarantee and M-F customer service online or by phone. Chegg offers discounts and deals occasionally, but use a Chegg coupon code, discount link or promo and save even more on textbook rentals, new and used textbooks and e-textbooks.
Featured Stores
Never Miss a
Coupon Again!
Add us on

Add to Circle